The History of HIStory
You search the Scriptures because you think that in them you have eternal life; it is these that testify about Me. John 5:39 NASB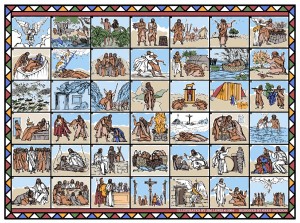 The Chronological Bible Stories were developed in 2004 by missionaries to the Massai in Kenya and Tanzania. They were used as a way to reach people with the gospel who could not read or write. Knowing that most Massai people are primary oral learners who use stories to pass on tremendous amounts of information from one generation to another, Bob Calvert developed 42 Chronological Bible Stories, starting with Creation and ending with the Ascension of Christ. The stories were put on a "Storying Cloth" to be shared with the Massai people.

A partnership of SBC Churches with Calvary Road Ministries came together to help Bob implement his vision. Under the leadership of John Shepherd, Calvary Road's President, the Story Cloth was printed and the strategy for utilizing volunteer teams was developed (http://calvaryroadministries.wordpress.com)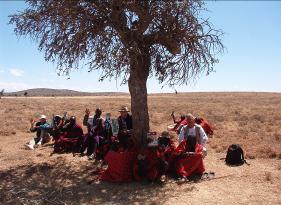 In February 2005, John Shepherd and Pastor Alan McAlister led a team of volunteers to implement the strategy in the bush of Kenya. The results were amazing. Hundreds of Massai gave their lives to Christ with the commitment to take the stories to others.
As God was blessing with an abundant harvest of souls among the Massai, other missionaries began to hear about the Story Cloth and began utilizing the Story Cloth in other regions. The Southern Baptist International Mission Board (IMB) began to help in the printing and distribution of the Story Cloths. (www.imb.org/main/lead/page.asp?StoryID=5892&LanguageID=1709)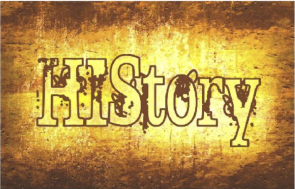 As more and more volunteers learned the stories, they shared how much more they understood about God's progressive revelation of redemption themselves. Pastors involved in this effort realized how this knowledge could be useful in churches "back home." They began to offer the Chronological Bible Stories to all the members of the church. With this encouragement, Alan McAlister, Sr. Pastor of Central Baptist Church, Clovis, NM, and Associate Pastor Derek Osburn, taught a series called HIStory; summaries, handouts, and teaching notes were developed. (www.storycloth.com)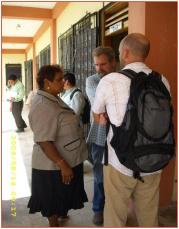 With so many members becoming familiar with the Chronological Bible Stories, many volunteers were sent out trained in the story-telling method. On a mission trip to Belize led by Derek and facilitated by Tim Tam, founder of The Word at Work Ministries, (http://www.twaw.org/ ), one of the volunteers decided to share the stories with some people while he was waiting.
As he spread the cloth on the ground, a small crowd gathered, one of whom was an educational official over 45 schools in that region. He was very excited about what he saw and explained that all schools in Belize were encouraged to teach "Spirituality" and that the stories he had just heard would be an excellent teaching resource for them.

He also said that every year in August, teachers around the country gathered for training. He asked if our team would be willing to come back in August and teach all of his teachers the stories and provide them with a Story Cloth. In 2009, Tim and Derek led a team from Central Baptist Church in training 250 teachers. (http://www.twaw.org/index.php?id=163&no_cache=1&sword_list[]=cloth)

In 2009, Central Baptist Church sponsored Derek Oburn in the planting of The Vine Community Church, and the two churches continued working together in Belize.
In 2010, the Ministry of Education of Belize invited teams from The Vine and Central Baptist Church to begin teaching the stories to teachers in Belize. In August of 2010, the combined teams led by Derek and Alan trained teachers in three districts.
They soon realized that training the teachers in the country of Belize to utilize Chronological Bible Stories in their teaching, and providing every teacher with a Story Cloth and teaching summaries, would be too large an undertaking for the two churches.
The opportunity to reach Belize with the Gospel was shared with Dr. Joe Bunce, Executive Director of the Baptist Convention of New Mexico, and the decision was made to challenge Southern Baptist Churches in New Mexico to partner together to reach Belize with HIStory.
As the Vision for reaching Belize was presented to churches in the BCNM, over 80 volunteers responded. Training was provided in the spring of 2011 to prepare them for teaching HIStory. The team grew to almost 100 by the time of the mission trip in August.
During the week of the mission, team members in Belize were introduced to the exciting work of THE WORD AT WORK. Numerous members of churches in Belize were equipped to use the stories in their ministries, and over 300 teachers were equipped to teach HIStory in their classes in Spirituality.
THERE ARE OPPORTUNITIES TO TEACH MANY AROUND THE WORLD
PLEASE PRAY FOR US

Finally, brethren, pray for us that the word of the Lord may spread rapidly and be glorified, just as it did also with you…
(2 Thessalonians 3:1 NAS)
If you would like to contact us for more information, please use our contact form.